John Terry has scored a total of 67 goals for Chelsea Football Club. It is the most ever scored by a defender in Chelsea's history. Terry earned 78 caps for England. He also won five Premier League titles, five FA Cups and a Champions League title. The defender also claimed five league cups and a Europa League title in 717 games for Chelsea.
John Terry's first goal for Chelsea was from a 2000 FA Cup tie against Gillingham. John Terry's top 10 goals among all his goals for Chelsea have been featured in "Givemesport". They are: Chelsea vs Barcelona 2005, Chelsea vs Napoli 2012, Chelsea vs Wigan 2009, Chelsea vs Marseille 2010, Chelsea vs Sunderland 2011, Chelsea vs Manchester United 2009, Chelsea vs West Ham 2006, Chelsea vs Arsenal 2004, and Chelsea vs Roma 2008.

The best goal of his career would be from Chelsea vs Barcelona 2005. Chelsea welcomed Barcelona to Stamford Bridge in the second leg of their 2004/2005 Champions league round of 16 tie. The Catalan giants had already claimed a narrow 2-1 victory at Camp Nou and the Blues needed to win as well as contain Barca superstar Ronaldinho.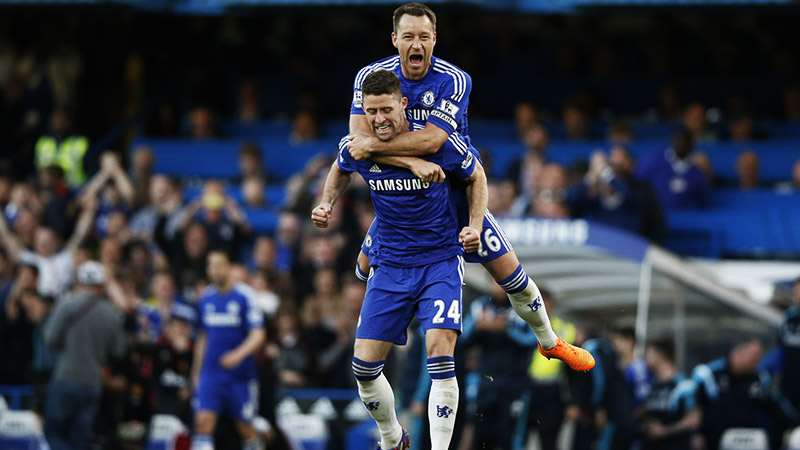 The match began in amazing fashion for the Blues as three goals inside 19 minutes from Eidur Gudjohnsen, Frank Lampard and Damien Duff saw Chelsea race to a 4-2 aggregate lead. Two goals from Ronaldinho, with the second being a strike of jaw-dropping quality, swung the tie back in Barcelona's favour. With 15 minutes to go and Chelsea on the verge of elimination at 4-4 on aggregate, up stepped John Terry.

The captain rose to the occasion as he headed home a priceless goal from a corner, his fourth Champions League goal, to put Chelsea back in front at 5-4 on aggregate as Stamford Bridge erupted into pandemonium. Chelsea held on to record a famous win.

John Terry has scored his last goal for Chelsea in May, 2017. The goal was against Watford in the English Premier League. Terry's header goal has concluded that he has successfully scored in 17 consecutive Premier League season. No doubt, it is a rather remarkable and notable achievement for John Terry as a central defender. After scoring the heading goal, Terry rushed away to the Chelsea fans in celebration. However, it was also an emotional one as it was his final season with the blues.